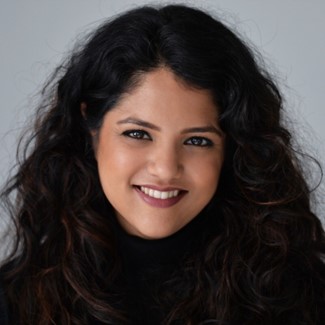 Job title
Technical Specialist
Email address
Arti.Lad@sddirect.org.uk
With a strong background in social development, Arti provides technical and research expertise to SDDirect's Gender-Based Violence portfolio. She is particularly interested in social and behaviour change (SBC) / communications (SBCC), participatory methods, complexity-aware MEL approaches and generating practice-based knowledge for GBV research and transformative programming.
Before joining SD Direct in September 2023, Arti was a Senior Program Officer at Equal Access International, providing technical and operational assistance to a range of gender, youth and social and behaviour change programmes across South & Central Asia and West Africa, including Nepal, Nigeria, Afghanistan, Pakistan and Tajikistan working on policy issues such as GBV, human trafficking, sexual exploitation, anti-corruption, civil society strengthening, women, peace & security and youth empowerment. In particular, she managed the innovative Change Starts at Home project, previously funded by the FCDO under the What Works programme, which uses media and community mobilisation to prevent intimate partner violence by addressing social norms, attitudes and behaviours that perpetuate women and girls' low status in Nepal.
Prior to this, Arti worked with international NGOs, consultancies and non-profits. She worked as a Project Coordinator at the Behavioural Insights Team (formerly the UK Cabinet Office's "Nudge Unit") providing project management, business development and knowledge management support to applied behavioural science, research and capacity building projects across low- and middle-income countries (LMICs), as a Programmes Officer at Street Child of Nepal for the FCDO's Girls' Education Challenge on the Breaking the Bonds and Marginalised No More programmes which aimed to empower marginalised girls of the Musahar community (Dalit caste) in Nepal through education, lifeskills and livelihoods support, and in policy research for EU-funded programmes focusing on the intersect between restorative justice and domestic violence in the UK and Europe.  Arti also has experience working in Uganda conducting mixed-methods formative research for her postgraduate study on cross-generational sex (sugar daddies), teenage pregnancies and HIV for the Margaret Pyke Trust, carrying out an impact evaluation on malaria prevention as well as volunteering on a WASH & clean stoves project with local NGOs.
Arti has also held various consultancy positions, advising corporates, non-profits, and intergovernmental organisations on strategic communications, public relations and campaigns such as Equal Measures 2030 for the launch of their gender equality forecaster/calculator, thought leadership for children's literacy and girls' education charity Room to Read, and the World Association of Girl Guides and Girl Scouts for the WHO-funded Global Youth Summit and providing coordination support to increase engagement with its 152 member organisations and mobilise & strengthen the movement.
Arti holds an MSc from the London School of Economics and Political Science (LSE) in Gender, Policy and Inequalities, and a BA (Hons) degree in Social Policy from the University of Nottingham. She was also a Finalist for the Women of the Future's inaugural ESG Award in 2021, which recognises successful young women in Britain.
In her free time, Arti enjoys travelling, volunteering, visiting museums and art galleries, trying new food places, and occasionally playing video games.